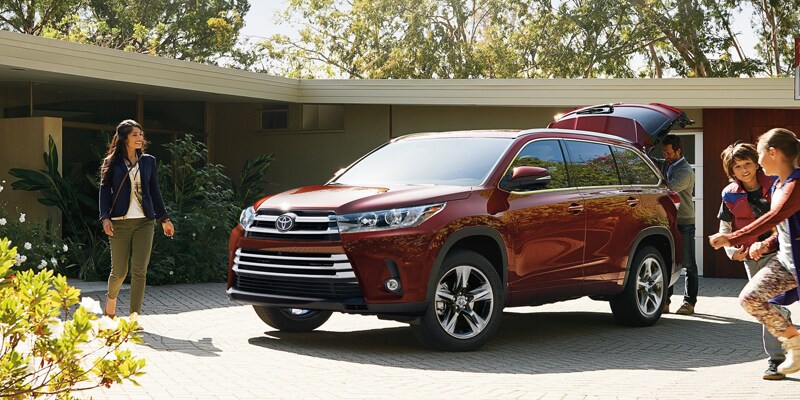 Whether your plans include leisurely cruising around the city or enjoying the scenic landscape while on vacation, the spacious 7-passenger 2019 Highlander will make the journey an exceptional experience of comfort and convenience.
Trim Levels
The 2019 Highlander comes in several trims and configurations that suit individual driving preferences to a tee. The available trims include the LE, LE Plus, XLE, SE, Limited, and Limited Platinum. A rear spoiler and sun/moonroof along with optional running boards enhance the SUV's appearance. An optional trailer hitch receiver adds to the versatility of the Highlander for towing and trailering for business or pleasure. 
Engine
Depending on the trim, the Highlander comes equipped with a choice of engine and drivetrain. The engines are either a 2.7-liter I4 or 3.5-liter V-6. An automatic 6-speed transmission or automatic transmission with manual mode and front-wheel drive (FWD) or all-wheel-drive (AWD) are available.
Performance
Performance for the Highlander is in sync with its size. The sport utility has the horsepower necessary to power the SUV whether driving or towing. The Limited Platinum, for example, produces 295 horsepower @ 6,600 revolutions per minute (RPM) and 263 pound-feet of torque at 4,700 RPM. The durability and functionality of the front strut and rear double wishbone suspension provide the stability needed to maneuver the weight of each of the trims such as the 4,135 base curb weight of the LE I4, for example, with ease. Each trim varies in its towing/trailering capacity. The LE I4 can handle up to 1,500 pounds while the Limited Platinum V-6 with FWD can handle up to 5,000 pounds.
Interior
The Highlander comes with a variety of standard and optional comfort and convenience features as well as infotainment/entertainment features depending on the trim chosen. For comfort and convenience, the Highlander may be fitted with adaptive cruise control, leather-wrapped steering wheel, keyless entry, keyless start, a navigation system, and interior cargo shade. The SUV is spacious, providing plenty of head, leg, and shoulder room in heated quad bucket seats, and there's ample cargo space of 78.6 cubic feet from seat one, 42.3 cubic feet from seat two, and 13.6 cubic feet from seat three whenever it's needed. Entertainment is just a fingertip away with standard and optional features such as an onboard hands-free communications system, wireless cell phone hookup, CD player, MP3 player, hard disk drive, HD radio, auxiliary audio input, smart device integration, and a premium sound system to listen to your favorite tunes. 
Safety Features
Safety is a factor anytime you're behind the wheel, and the Highlander is equipped with safety features to aid drivers in a safer driving experience. Drivers have access to systems such as Lane Keeping Assist, Cross-Traffic Alert, Lane Departure Warning, Blind Spot Monitor, and Brake Assist. Passengers can ride securely with front head and side air bags, driver and passenger air bags, rear head air bags, and child safety locks. The Highlander is fitted with Electronic Stability Control (ESC), traction control, integrated turn signal mirrors, daytime running lights, and a vehicle anti-theft system