How Much Can A Toyota 4Runner Tow?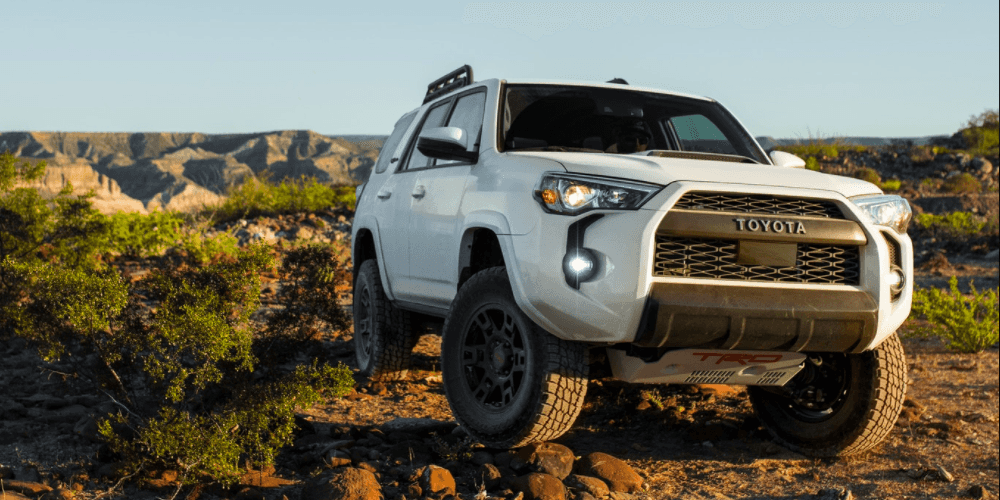 If you need an SUV that can go the extra mile, you might be wondering, "Just how much can a Toyota 4Runner tow around Reading?" This powerhouse vehicle has the strength to haul up to 5,000 pounds* – no matter which trim level you choose from our inventory! Just how does this SUV do it? Take a look at the performance specs and features below, and see how the new Toyota 4Runner can elevate your driving experiences throughout Wyomissing and Lancaster.
Toyota 4Runner Towing Features
Not only can the 4Runner take care of tough tasks, but it completes the biggest challenges with ease – thanks to smart towing technology. Take a look at the standard towing features that contribute to the fantastic 2020 Toyota 4Runner towing capacity:
4.0L V6 Engine: Roaring with 270 horsepower and 278 lb-ft of torque, this rugged engine offers all the power that you need to handle heavy equipment.
Integrated Towing Hitch Receiver: The standard hitch receiver keeps your trailer under control across any terrain.
Wiring Harness with 4- and 7-Pin Connectors: Driving safe is easier than ever before with help from the built-in wiring harness, which helps hook up your trailer lights.
SAE J2807 Towing Rating
The Society of Automotive Engineers (SAE) conducts intensive research every year to assess the towing prowess of the leading vehicles on the market. This research covers the following areas of the vehicle:
Structure
Ballast
Chassis
Tires
The SAE J2807 ratings set a standard across the board to compare models. And not only these ratings account for engine power, but they also incorporate factors like hitch structure and vehicle dynamics. Additionally, many drivers look up the true gross combined weight rating (GCWR) for a more complete picture of the Toyota 4Runner towing capacity.
4Runner vs. the Competition
The Toyota 4Runner is extraordinarily well-equipped, but how does it stack up against the competition?
2020 Toyota 4Runner SR5 FWD: 5,000 pounds
2020 Honda Pilot LX FWD: 3,500 pounds
2019 Jeep Grand Cherokee Laredo 4×2: 3,500 pounds
2020 Jeep Wrangler 4-Door Sport: 3,500 pounds
Find Out More with Performance Toyota
You've read all about the 2020 Toyota 4Runner towing capacity, but what else can this dynamo do for you? Contact us with any questions about our inventory or buy your car 100% online with our Express Store!
*Before towing, confirm your vehicle and trailer are compatible, hooked up and loaded properly and that you have any necessary additional equipment. Do not exceed any Weight Ratings and follow all instructions in your Owner's Manual. The maximum you can tow depends on base curb weight plus the total weight of any cargo, occupants, and added vehicle equipment. "Added vehicle equipment" includes additional standard/optional equipment and accessories added by the manufacturer, dealers, and/or vehicle owners. The only way to be certain of your vehicle's exact curb weight is to weigh your vehicle without passengers or cargo.
More from Performance Toyota
You've probably heard of the Toyota Corolla. It's been around since 1966 as a constant and reliable figure in the automotive world. Nearly everyone has driven or ridden in a Corolla at some point. From driver's education classes to rental car companies and all the millions of smart drivers who have stopped by our dealership…

Purchasing your first car is a monumental occasion; it's a rite of passage into adulthood that deserves to be celebrated. But there's more to owning a vehicle than simply getting behind the wheel. You're also responsible for common automotive expenses like insurance, registration, taxes, maintenance, and repair. So, how much can you expect to budget…

Safety is perhaps the most critical factor of your journey, whether it takes you across the country or simply down the street. If you're searching for a better vehicle for your travels, look no further than a Toyota, recognized for its stellar safety record across multiple segments. When you want a more affordable price and…