New Highlander Details Released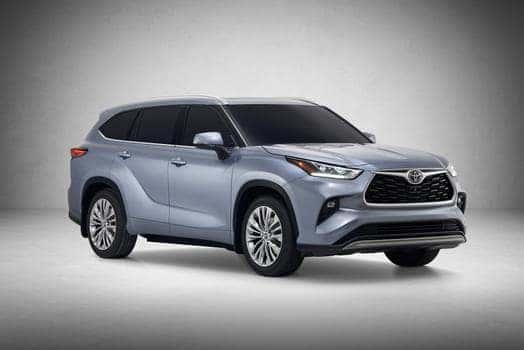 Next up in the announced Toyota SUV lineup is the 2020 Highlander. When it was first launched in 2001, the Highlander set a new tone for midsize family SUVs. Instead of taking inspiration from a truck-based design, the Highlander set the stage for unibody structure design for the next generation of SUVs. With the fourth generation of the Highlander incoming it's bringing a whole bunch of new features with it.
With a freshly crafted and sophisticated body-style, the 2020 Highlander is setting itself apart from the rest of the lineup. With advanced aerodynamic efficiency makes every ride quieter and allows for more complete control. The extended body is specifically made to increase the amount of cargo area, making it even more spacious inside than before for all of your gear, passengers, and anything else you can fit.
This generation of the Highlander is looking to bring more options to the table with both gas and Hybrid builds. Using a high-efficiency 2.5-liter DOHC four-cylinder engine with two electric motors in a system that's made to be more efficient and capable than before. Boasting an EPA-estimated 34 combined MPG, and options for either 2WD or AWD, the Hybrid Highlander is made to raise the bar for what the expectations are for highly efficient SUVs.
The Highlander Hybrid utilizes a special AWD system that employs a separate rear-mounted electric motor to give extra power directly to the rear wheels. Complete control and advanced sensors ensure that even though the whole system is lighter than before, it doesn't lose torque or power. The key is that the reduction gear is now incorporated as a parallel shaft gear. The new technological innovations are installed immediately above the transaxle reduce energy loss in your system.
All of these technological improvements combine to make the 2020 Highlander an incredibly efficient machine. Functions like Hill Start Assist Control (HAC), Trailer Sway Control (TSC), and Downhill Assist Control (DAC) are specifically designed to make the Highlander one of the most efficient and safe crossover SUVs on and off of the road. Without losing traction, control, and stability, you can easily get to your destination and never lose your sense of style and power.
These are just a few of the new and improved aspects of the 2020 Toyota Highlander. For a more complete accounting of all of the new advances, more information can be found here. Keep an eye out for the 2020 Highlander to arrive at dealers later this year.