Our Favorite Family-Friendly SUVs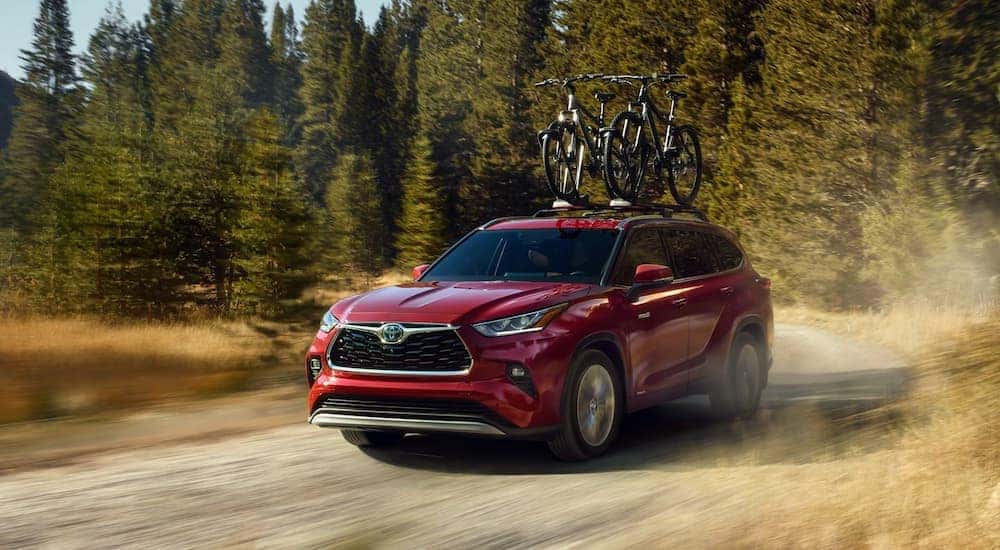 Traveling with your family poses unique challenges. From having enough space so everyone on board can feel comfortable to enjoying features to make any ride easier, no matter how long you're on the road, not all vehicles are equipped to handle today's busy family. Many families gravitate toward SUVs, and when you want to ensure you're able to shop from a selection that impresses you with prices you can afford, choosing to shop used is highly advised. If you're looking for used SUVs for sale to accommodate your family, Performance Toyota has plenty of incredible options, and when it comes to the best SUVs for families, there are a few that stand out from the crowd.
The Toyota Highlander
It's one of the best family haulers around, with a five-star safety rating, plenty of room for all of your family members, plus a cavernous cargo hold to accommodate your travel belongings. The Toyota Highlander is eye-catching, rugged, and durable, and it's ready to add immense comfort and security to your daily drive. If you're shopping used, we recommend models from 2020 and newer. This selection showcases a fine lineup, including hybrid models to enhance efficiency, while you're running from school to the doctor's office, orthodontist appointments, sports practice, and everywhere else a busy family has to go during the day. It's easy to handle and smooth on the road, allowing your family to enjoy the drive, even on those road trips across the state to visit grandma.
The Hyundai Palisade
It may seem as though you're looking at a high-end luxury SUV, but with affordable pricing and favorable features, the Hyundai Palisade is a top choice for many families. Making its debut for the 2020 model year, no matter which model you choose, you'll be undoubtedly impressed with the Palisade, but our pick lies in the 2021 arsenal with the top-level Calligraphy trim. Quilted leather seating materials and a refined ambiance make family travels infinitely better. An in-car intercom, a power-folding middle row, and rear climate controls are helpful features to provide families with what they need on the road. With room for up to eight and 86 cu.ft. of cargo space in recent model years, the Palisade offers functional luxury on a budget for families everywhere.
The Chevy Traverse
Many families shy away from minivans due to the fact that they're cumbersome and outdated, opting for SUVs that offer them minivan features in a more stylish package. The Chevy Traverse does this perfectly with its rugged, truck-inspired build and loads of designer features, especially as you make your way up the trim levels. An elevated driver's seat improves visibility on the road, while standard and available driver assistance features make it easy to navigate your journey with assurance. Choosing models from 2020 will allow you to enjoy advanced camera technology, including a 360-degree camera, as well as an HD backup camera to help you stay aware of what lies around you on the road. Chevy is also known for making their vehicles exceptionally strong, and with a towing capacity of up to 5,000 lbs, plus camera views to help with hitching up your trailer, the Traverse is able to handle more during your travels.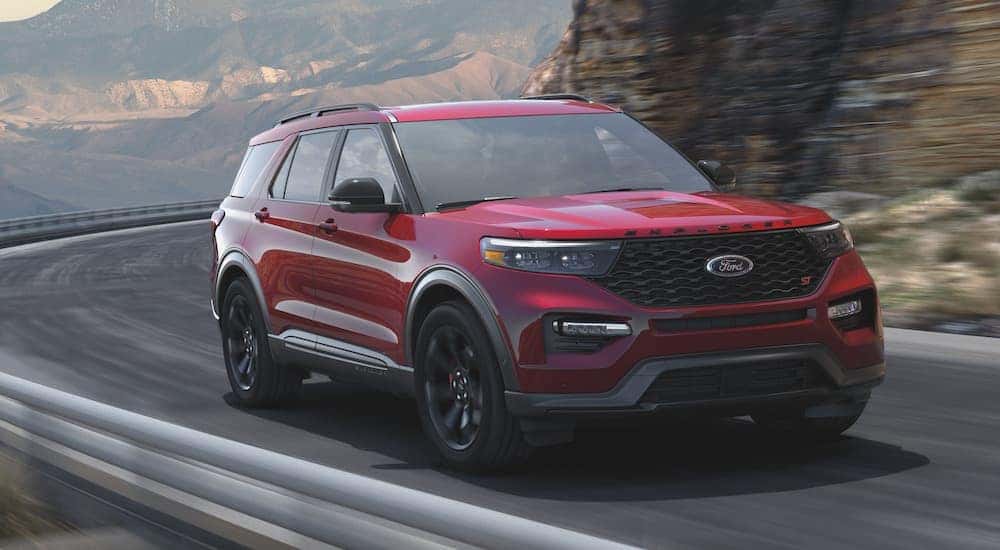 The Ford Explorer
The Explorer is one of the original family favorites, making its debut before many others on this list in the early '90s. This three-row SUV isn't just smooth to drive and easy to maneuver anywhere you're traveling; it's also incredibly safe, earning five stars in crash testing. Perhaps what's most appreciated is the space inside, as the Explorer is able to offer generous legroom in all rows, which makes it ideal for transporting families of all sizes. When looking at used Explorers, we recommend models from 2020, as these models showcase one of its latest redesigns, which include features like more modern styling elements, improved ride quality, and enhanced tech to elevate the feeling of the ride.
The Subaru Ascent
Standard all-wheel drive, some of the best safety systems in the industry, and reliability like no other are just a few things to love about a Subaru, and the Ascent is conditioned to transport busy families around town and beyond. This respected model emerged just recently in 2019, offering drivers more space to haul around rambunctious travelers, as well as all of their must-have travel gear. Models from its introductory year include plenty of can't-miss features, like untouchable safety and driver assistance options, as well as a superior engine that delivers the power and excitement you're looking for in your daily drive. Especially ideal for those frequently traveling through inclement weather, the Subaru Ascent projects the brand's legacy throughout its rugged and capable build, making it one of the best choices when your family's travels are on the line.
The Honda Pilot
Adventurous families love the bold design of the Honda Pilot, which is capable of taking you into the wilderness for a weekend in nature or down the street to sports practice with ease. Not only has it received five stars from the NHTSA in crash testing, but it has also been frequently seen as an IIHS Top Safety Pick for years. Combining the versatility found in the Odyssey minivan with a sleek, rugged style that can be seen in many SUVs, the Pilot is an ideal blend of form and function. Choosing models from its mid-cycle refresh in 2019 allows you to take advantage of more convenient features, like larger rear entertainment screens to keep your passengers occupied, as well as the CabinTalk intercom system to stay in touch with all on board without having to shout.
The Chevy Suburban
It's large, it's powerful, and it's ready to transport your brood wherever you need to go in absolute comfort. The Chevy Suburban is cavernous inside, with three rows of seating and room for up to nine when configured properly. Over 144 cu.ft. of cargo space, especially when you opt for newer models, allows you to take anything and everything on the road with you. We recommend choosing a model from 2021, as this model year unveils a brand-new generation for the oldest nameplate in the Chevy arsenal. Its longer stance allows it to handle more, and with plenty of powertrain options and smooth ride quality, made possible by a specialized air suspension system, any ride in the Suburban will be superb.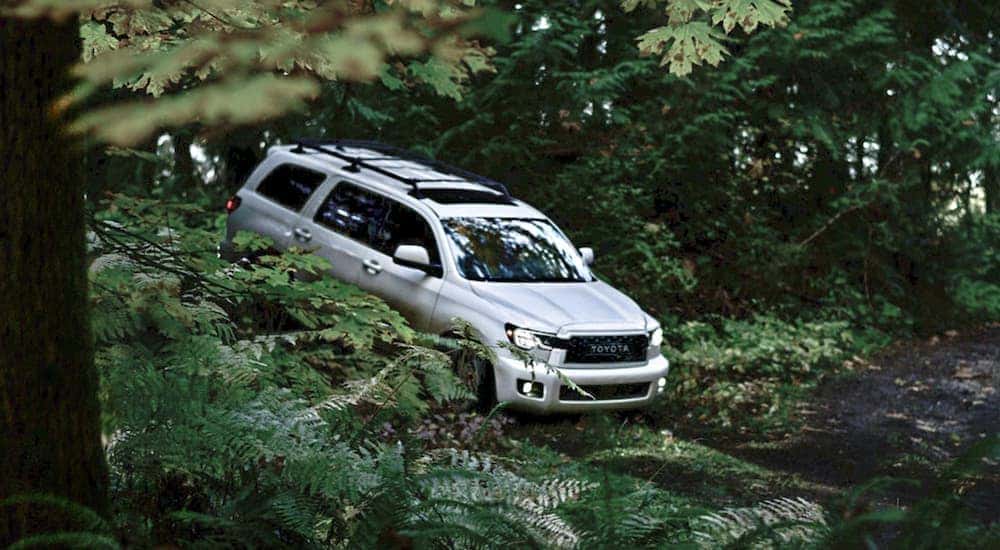 The Toyota Sequoia
Built for family adventurers, the Toyota Sequoia is ready for anything, with its durable design, off-road-ready features, and top tech to make any drive connected and protected. Models from 2020, for instance, showcase the debut of the TRD Pro model, which takes off-road adventuring to a whole new level with a lifted suspension, front skid plate, and intense all-wheel drive capabilities to help propel you forward, despite the terrain. For families who love to get off the beaten path, the Sequoia is designed to handle anything that the trails toss your way, and when it's time to get back on the road, its large interior and spacious cargo hold make it easy to travel anywhere in absolute comfort.
SUVs for the Modern Family
Today's families are busy, and they want vehicles that take their needs and place them at the forefront of their designs. Fortunately, this list includes some of the best options on the market that are available used to add intense value to your travels in every possible way. Stop by Performance Toyota and browse our lot for used SUVs for sale that will maximize your time behind the wheel like never before, complete with kid-friendly features designed to keep young travelers occupied during the journey. When it comes to your family, only the best will do, which is exactly what you'll find on the used lot here at Performance Toyota.