Stylish Power In The All-New Toyota 86 Hakone Edition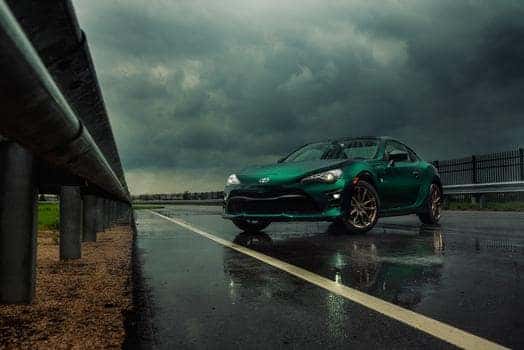 Toyota constantly seeks out new sources of inspiration for their vehicles. The Hakone Turnpike, located two hours south of Tokyo, is one such source. Scenic views and long stretches of beautiful road allow drivers to experience the full range of capability of their vehicles.
That's why the new Toyota 86 Hakone Edition is designed to pay proper homage to this stretch of road and international sports car driving.
With a special Hakone green paint, 17" twisted spoke bronze wheels, and black spoiler definitely nod to the sporty aesthetic the 86 Harkone is aiming for. The interior will go above and beyond to create a completely unique experience including tan and black Alcantara seats, the Toyota 86 logo embroidered on the passenger-side dashboard, and special tan stitching for various features.
To bring the driver into the full feel of the 86 Harkone, everyone that purchases one will also get a pair of tan key gloves and folio cover with a, 86 logo and black stitching.
The 86 Hakone Edition will be available for model year 2020 and has a choice of 6-speed manual or automatic transmissions. It will also utilize the specially designed boxer four-cylinder engine to reduce vibration and maximize driving enjoyment. With the ability to deploy 205 hp and 156 lb-ft of torque using this configuration, the power is definitely in the hands of the driver.
The 86 Hakone Edition also delivers when it comes to key amenities. LED projector-beam headlights, chrome-tipped dual exhaust, and a specially designed aerodynamic floor undercover are just a few of the features available with this model. Keep an eye out for future announcements regarding this very special edition of the Toyota 86 line.