Toyota Continues to Dominate NASCAR Heading Into Darlington Race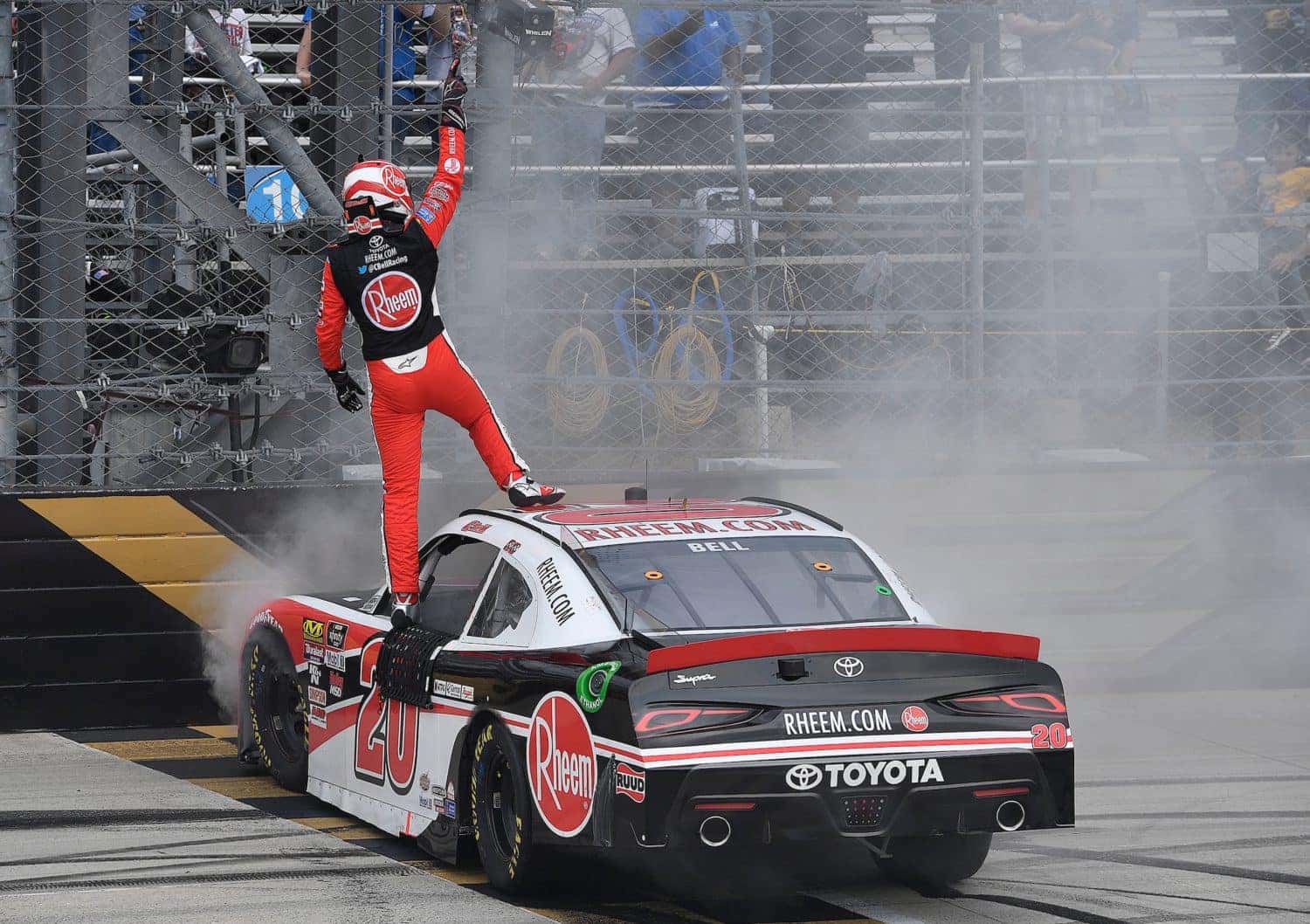 Even though NASCAR's Monster Energy Cup Series was off this past weekend, that didn't stop the motorsport's multiple Toyota drivers from continuing to show talent, speed, and power across all aspects of NASCAR racing.
Multiple rookie and veteran Toyota drivers have made a serious stand throughout the course of each series season this year, and the Toyota dominance is likely to continue as NASCAR's Monster Energy Cup Series heads to Darlington Raceway this coming Sunday.
At Road America on Saturday
Last weekend, the NASCAR Xfinity Series took center stage with the much-anticipated race at  NASCAR's longest road course, Road America in Elkhart Lake, Wisconsin. Following a pair of second-place road course finishes earlier this season, young racing sensation Christopher Bell piloted his number 20 Toyota Supra to the winner's circle on Saturday. It was his sixth series-leading win of the season thus far.
"I'm honestly in shock," said Bell after the win. "I really butchered qualifying. I felt once we got in the race, we would be able to drive by those guys. This Ruud Supra was really, really fast. We've had a great road-course season. I'm really honored to be a part of Joe Gibbs Racing. To get my first road-course win is really special."
Following a late-race caution, Bell was able to get around popular up-and-comer and race teammate Matt DiBenedetto despite his number 18 Supra's show of strength early on. This finish will undoubtedly fuel continuing rumors of a battle between Dibenedetto and Bell for a seat in one of Gibbs' MENCS cars next season.
At Canadian Tire Motorsport Park Last Sunday
Also this past weekend, the NASCAR Gander Outdoors Truck Season held its sole road course race at Canadian Tire Motorsport Park in Bowmanville, Ontario, Canada. 
In his first-ever start behind the wheel of the number 51 Toyota Tundra race truck, former open-wheel racing veteran Alex Tagliani earned a career-best second place finish for Kyle Busch Motrsports.  "It was amazing to run for KBM," Tagliani said. "Thanks to everybody there, especially Kyle (Busch), for accepting for me to be in this truck…It was a pleasure to race for (KBM) and a good point day for the 51 team." 
Fellow Toyota playoff drivers had a great day as well. Austin Hill, driver of the number 16 Tundra, was able to secure a fifth-place finish, while Tyler Ankrum managed to drive the number 17 Tundra to a top-ten finish in his first-ever road course start.
At Darlington Raceway This Sunday
This Sunday, the NASCAR Monster Energy Cup Series will head to historic Darlington Raceway for the series' annual heritage race, the Bojangles' Southern 500, in which the drivers will honor the successes and memories of the past. 
Darlington Raceway has been nicknamed "The Lady in Black" and "The Track Too Tough To Tame," largely due to its unique layout in which one end of the 1.366 mile egg-shaped track is significantly larger than the other.
Although intimidating, many Toyota Racing drivers have found success at the track, namely Denny Hamlin, who has won this race twice and currently holds the record for the highest average finish at 6.2. Fellow Toyota driver and former MECS Champion Martin Truex Jr. has also won here, as has current points leader Kyle Busch.
Perhaps most impressively, Toyota sits third all-time in wins at Darlington Raceway, with four of its six wins coming in the past five years alone. The Toyota Racing drivers will begin qualifying for the 2019 Bojangles' Southern 500 this Saturday, and lay it all out on the track this Sunday night.
To check out all of the high-performance vehicles like the Toyota Camry, Supra, and Tundra that show so much dominance on the track, head to Performance Toyota today.