Unique Yaris Flare Is On The Way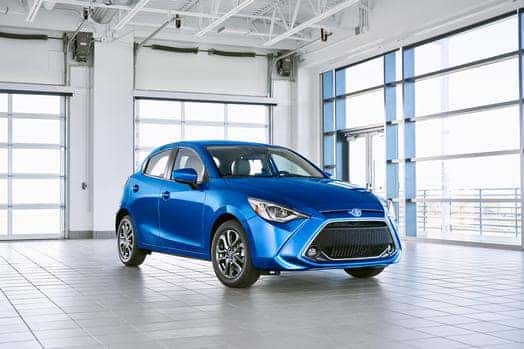 Style and energy combine in the 2020 Toyota Yaris which will debut at the New York International Auto Show.  Right off the bat, it's clear the Yaris has a unique look, making sure it stands out from the crowd. A one-of-a-kind "cab-rearward" design makes for a strong statement from every angle. It also gives more space where you need it in the cabin and hatchback.
In order to make your drive more customized and tailored to you, the 2020 Yaris comes with a standard 7-inch Touchscreen display audio system to make this a powerful media machine. With Apple CarPlay and Android Auto, you can connect your devices to make your experience totally about your taste.
In addition to media accessibility, the Yaris has extensive safety features packed into a small yet internally spacious frame. Standard with Low-speed Pre-collision Safety System keep an eye on the road ahead to ensure that the driver is alerted to any potential collisions ahead. If the driver doesn't make a change or respond to the alerts, the system can automatically apply the brakes itself.
The Yaris is able to sport its high efficiency with a 1.5-liter inline four-cylinder engine. Lightweight and high-compression make this highly responsive engine the real heart of the hatchback. The quick responsiveness of the Yaris is possible with the 6-speed automatic transmission's torque converter, which locks in all gears to make the shifts more direct and efficient.
The 2020 Toyota Yaris is bringing some big things in its compact package. Keep an eye out for more information about this exciting new Toyota coming soon.