Your 2022 Toyota RAV4 Buyer's Guide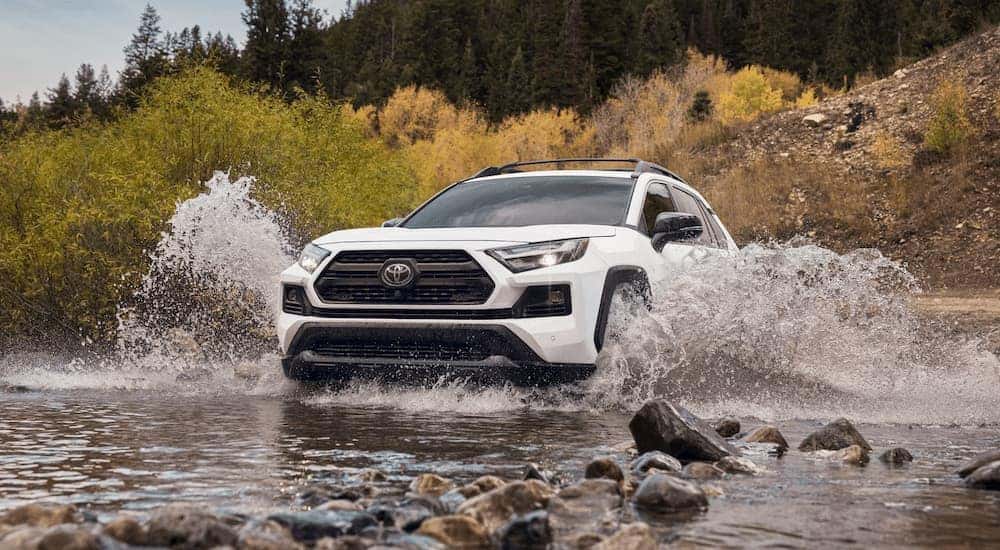 Toyota has positioned itself as one of the leading automakers in the world. It has accomplished this feat by offering drivers vehicles that are safe, reliable, affordable, and fun to drive. One of the top models in this category is the 2022 Toyota RAV4. This compact SUV helped pioneer the vehicle category when Toyota unleashed this model in 1994. Since then, the RAV4 has gone through five generations of updating, with the current one having been introduced in 2019. If you stop at Performance Toyota, your Toyota RAV4 dealer, you will get the chance to get behind the wheel of one of these exceptional vehicles. The RAV4 offers you a sporty model that works equally well as a commuter vehicle, a family car, or a great ride for the new driver in your household.
At Performance Toyota, we offer a vast inventory of new and used Toyota cars, trucks, and SUVS, including the 2022 RAV4. Our friendly sales staff will get to know you and help you find the right Toyota model for you. They will be happy to show you why the 2022 Toyota RAV4 is the perfect car for busy folks who live and work in this part of Pennsylvania.
Models and Trims
The RAV4 was originally only available as a conventional gasoline-powered vehicle. However, all of that changed in 2016 when Toyota introduced the RAV4 Hybrid, giving drivers a second choice for an excellent powertrain for their vehicle. The RAV4 Prime joined the team in 2021. This is a plug-in version of the RAV4 Hybrid, which allows drivers to recharge the battery at a public DC supercharger or from the comfort of their own home.
The 2023 RAV4 offers drivers six different trim levels. The base model is the LE, which is also the base model of the RAV4 Hybrid. If you are looking for a few more features for your money, there are the XLE and XLE Premium trims, which are on both the RAV4 and RAV4 Hybrid. Interestingly, the top trim on both models is the Limited, but each offers a slightly different pair of upper-level trims.
Toyota offers you two different gasoline-only RAV4 models that come with standard all-wheel drive and are designed for folks who would like to try their hand at off-roading. These are the Adventure and the TRD Off-Road. For those who don't know, TRD stands for Toyota Racing Development. These are the designers and engineers who work on the Toyota sports cars. They take the innovations they develop for these models and then apply them to ones that are commercial.
As for the RAV4 Hybrid, Toyota offers the SE and XSE trims that come in just below the Limited. These are also the only two trims available on the 2022 Toyota RAV4 Prime.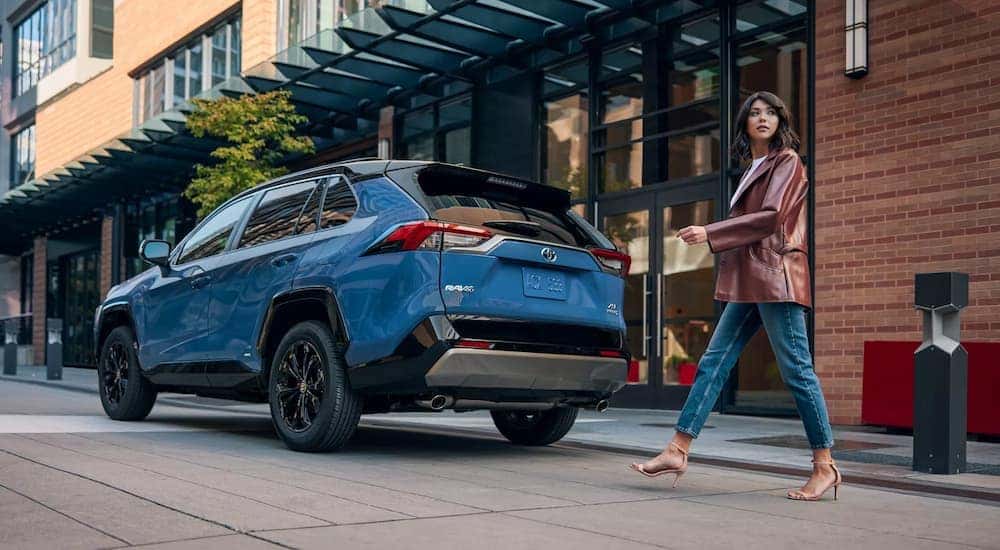 Engines and Performance
The key to any vehicle is its powertrain. This combination of engine and transmission is the part that provides the propulsion. It has a great impact on performance, determining things like acceleration, handling, and fuel economy. With each of the three models of the 2022 RAV4, Toyota has chosen to go with a standard powertrain.
If you are looking at the gas-only RAV4, the engine is a 2.5-liter Dynamic Force I-4 engine paired with a direct shift, eight-speed electronically controlled automatic transmission. This engine features a dual overhead cam configuration, with 16 valves feeding the four cylinders. Toyota has equipped it with a dual variable valve timing system to provide improved fuel efficiency. Interestingly enough, the 2.5-liter gas engine on the RAV4 has a combination of fuel injectors, using both direct injection and port injection. This helps improve performance, delivering up to 203 horsepower and 184 lb-ft of torque.
The RAV4 Hybrid has a specially modified version of the engine featured on the standard RAV4 model. In place of the eight-speed automatic transmission is an electronically controlled continuously variable transmission (CVT) with sequential shift mode. Also, the RAV4 Hybrid adds a pair of permanent magnet synchronous electric motors to the engine, which boosts output to 219 total combined horsepower. This pair of electric motors are powered by a 259-volt sealed nickel-metal hydride battery. Instead of relying on an external power source to recharge the battery, the gas engine on the RAV4 Hybrid charges a generator, which in turn recharges this battery pack. It also uses kinetic energy brake recapture, taking a portion of the energy released each time you step on the brakes to help keep the battery pack charged up.
Toyota has taken a similar approach with the RAV4 Prime. This also has a 2.5-liter Dynamic Force I-4 combined with two electric motors. However, it uses a more powerful 259-volt sealed lithium-ion battery, allowing it to produce 302 total horsepower. This gives it greater acceleration, with the RAV4 Prime able to go 0-60 miles per hour in 5.5 seconds, compared to the RAV4 with the gas engine, which needs 8.4 seconds to get up to 60 miles per hour.
The RAV4 Prime also has the ability to be recharged at public charging stations or at your own home. Also, unlike the 2022 RAV4, which comes with standard front-wheel drive and available all-wheel drive on most trims, the RAV4 Hybrid and RAV4 Prime are standard all-wheel drive, giving you improved traction.
Fuel Economy
One of the biggest selling points for the 2022 RAV4 is its excellent fuel economy. No matter which model you choose, you are going to get the kind of gas mileage that is among the best in its vehicle class. For example, the RAV4 with the gas engine will give you an impressive combined fuel economy of 30 MPG regardless of whether you choose front-wheel drive or available all-wheel drive. The RAV4 Hybrid primarily utilizes its electric motors at lower speeds, which is why it gets an amazing 40 MPG combined. This makes it perfect for someone who has to run daily errands around town. As for the RAV4 Prime, this model uses its powerful powertrain to deliver an incredible 94 MPGe or 42 miles on electric power alone, which is why this is a great model for commuters looking to save at the gas pump.
Roomy Interior
The 2022 Toyota RAV4 has plenty of room for up to five passengers in its spacious interior. Even more so in the Hybrid and Prime versions. This is because Toyota has cleverly secured the battery packs on the RAV4 Hybrid and RAV4 Prime models under the rear row of seats. This not only shields them from damage in the unfortunate case of an accident, but it also makes sure that you don't lose any passenger or cargo space. As a result, all models of the 2022 RAV4 have a spacious 37.8 inches of legroom in the back. This is great because then you won't have your passengers fighting over who gets to ride shotgun.
The interior of the RAV4 is cloaked in a choice of comfortable and attractive fabrics. While the more entry-level models have a cloth interior, the higher trims sport a SofTex-trimmed seating area that really pops.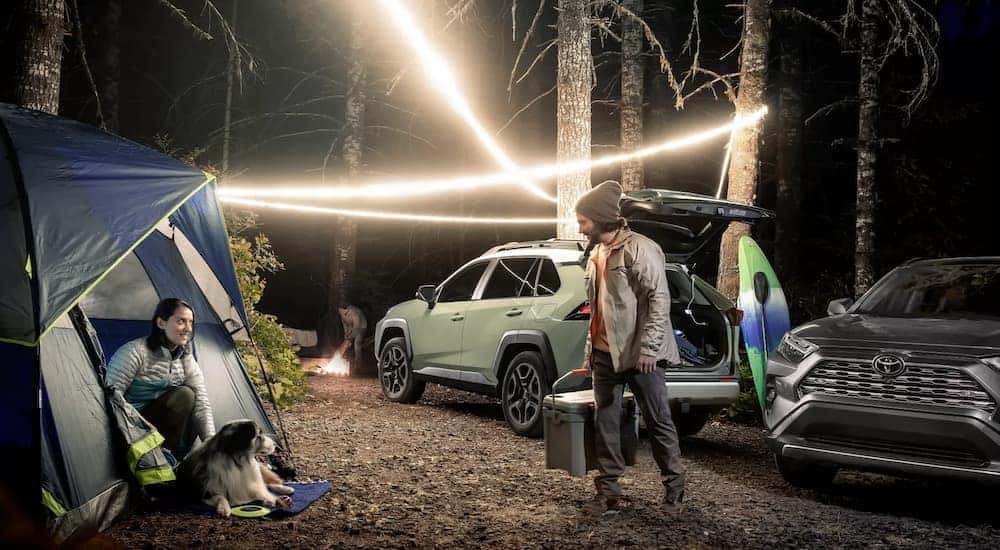 Technology
Toyota has done a wonderful job of using technology to get the most out of the 2022 RAV4. Each model comes with a Toyota Audio infotainment system that integrates key vehicle information with entertainment features and smartphone connectivity. The standard system has a seven-inch color touchscreen with a six-speaker audio system. This seamlessly integrates your smartphone with the Toyota Audio system via Apple CarPlay, Android Auto, or Amazon Alexa. There is even a free three-month trial of 2 GB Wi-Fi Connect. The upper trims come with the Toyota Audio Plus system on a nine-inch touchscreen. A Premium Audio system with Dynamic Navigation is available as an option on these models.
Each 2022 RAV4 also comes with a standard Toyota Safety Sense 2.0 suite of driver assistance features. This is one of the most comprehensive standard safety systems, including such features as Full-Speed Range Dynamic Radar Cruise Control with Road Sign Assist and Lane Tracing Assist. These are usually available on comparable models from other brands as a premium feature. Toyota shows its commitment to vehicle safety by making the Toyota Safety Sense 2.0 set of driver-assist features standard on all models of the 2022 RAV4 regardless of trim level.
Three Excellent RAV4 Models to Choose From
Giving you choices is what the 2022 RAV4 is all about. Not only do you have the ability to choose between three different models, each with a different powertrain, but you also have so many different trim levels. In this way, you can easily find a 2022 RAV4 that fits your lifestyle and budget perfectly. If you want a place to start looking and comparing models, or you need a little bit of help from some Toyota experts, visit Performance Toyota today.